Tcatical Backpack suppliers
For nearly 15 years AET has been committed to manufacturing high-quality tactical backpacks that meet the needs of all dealers, and we have received unanimous praise
AET custom tactical backpack
Tactical backpacks, also known as military backpacks, are specialized backpacks designed for military operators, law enforcement officers, outdoor enthusiasts, and other individuals in need of a durable and versatile backpack to carry their essential items and equipment. They are built to meet the rigorous demands of different environments.
Tactical backpacks, also known as military backpacks, are backpacks designed specifically for military operators, law enforcement officers, outdoor enthusiasts, and other individuals who require a durable and versatile backpack to carry essential items and gear. They are designed to meet the stringent requirements of different environments.
As a professional tactical backpack manufacturer and supplier for more than 14 years, AET can provide our customers with customized high-quality tactical backpacks of different models. Our customized tactical backpacks include the following aspects: material and color (e.g., nylon, Cordura, ripstop)., Size and Capacity, Compartments and Pockets, MOLLE (Modular Lightweight Load-carrying Equipment), Padded Straps and Back Panel, Custom Embroidery/Patches,Weather Resistance, etc.

Remember that the specific options available may vary depending on the brand and model of the tactical backpack you're considering. It's essential to communicate your requirements to the manufacturer or vendor to ensure the customization meets your expectations.
Customize your own tactical backpack and be your own hero
Tactical Backpacks: The Complete Guide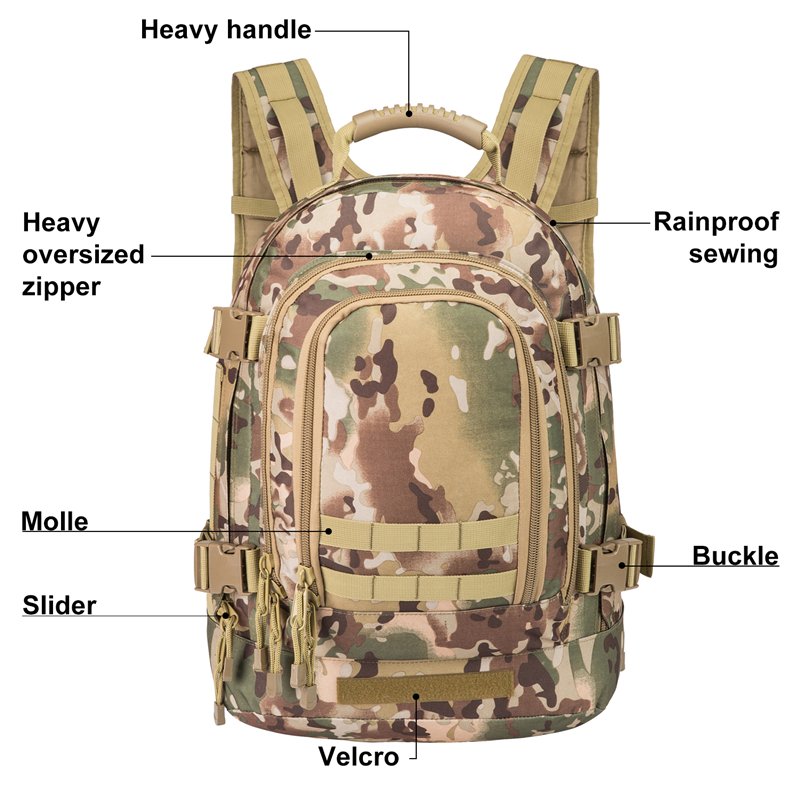 Before we talk about tactical gear, it's necessary to make out what tactical means.
According to the Oxford Learner's Dictionaries, tactical is "connected with the particular method you use to achieve something; carefully planned in order to achieve a particular aim; (especially of weapons) used or having an effect over short distances or for a short time; connected with military tactics."
From the definition, you can find that in its essence, the term "tactical" describes the precise and strategic movements or plans used to achieve specific goals within a larger context.
In the military realm, the term "tactical" is deeply related with strategic planning. It refers to maneuvers and operations executed on a smaller scale, focusing on specific objectives within a larger mission. It involves a keen understanding of the immediate environment and swift adaptations to achieve goals effectively.
Key features of tactical backpacks
Durability: Tactical backpacks are typically made from high-quality rugged materials such as nylon, Cordura, polyester, or other scratch-resistant fabrics to withstand harsh conditions and heavy loads. Reinforced stitching and grab handles, heavy-duty zippers also ensure the backpack's longevity.
Large capacity: Tactical backpacks generally have multiple compartments and pockets, providing roomy space for organized storage and allowing for easy access. Some backpacks have compression straps to help fix the loads when they are not fully packed.
MOLLE system: PALS (Pouch Attachment Ladder System) webbing/laser-cut MOLLE on the exterior is an extinguishing feature of tactical backpacks. It enables users to attach additional pouches, holsters, and accessories to the pack based on their specific needs.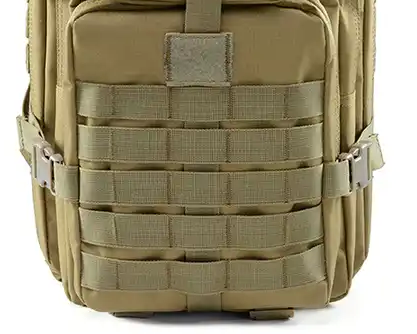 Comfort and load-bearing: To increase comfort during the extended wear, most tactical backpacks are equipped with padded shoulder straps, padded mesh back panels, detachable sternum straps (chest straps) and waist belts (hip belts). In such ways, weight can be distributed more evenly, and the use of mesh can reduce moisture buildup.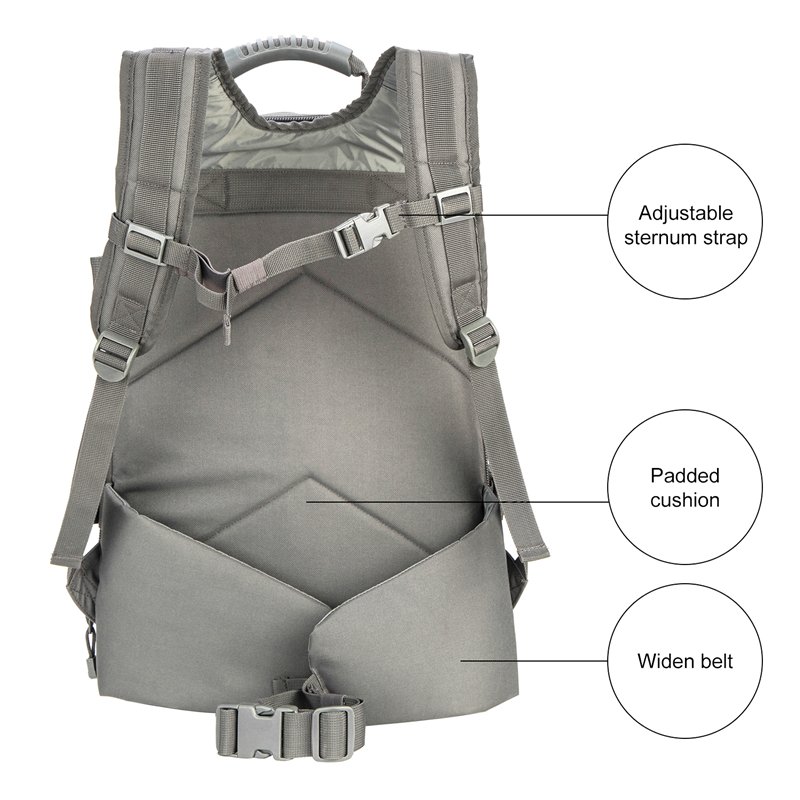 Hydration compatibility: Many tactical backpacks have built-in hydration compartments or pockets to hold hydration bladders, allowing users to access water conveniently during long-duration missions without having to stop and use a water bottle.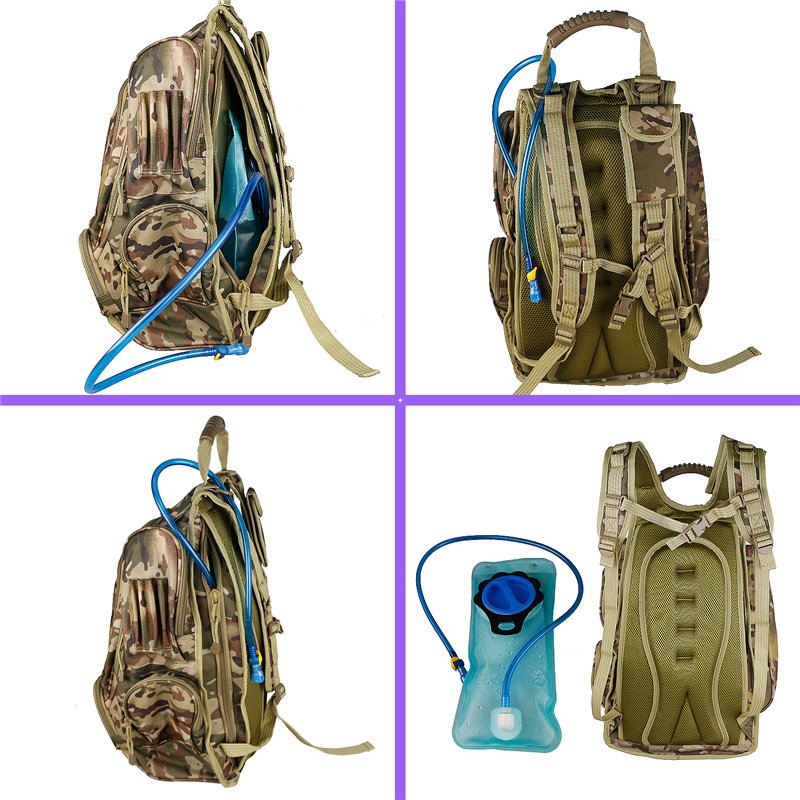 Colors and patterns: Tactical backpacks always feature colors like camouflage patterns, multicam, coyote brown or olive drab to match the user's environment or uniform requirements.
Quick access: Many tactical backpacks include quick-release buckles or rapid access pockets for immediate access to essential items, such as firearms or first aid supplies.
Types of tactical backpacks
Tactical backpacks vary in volumes. They are measured in terms of liters from around 5 liters to larger options of 60 liters or more. The greater the backpack's volume, the more gear it can carry.
Everyday carry (EDC) backpacks usually range in size from 5 to 30 Liters to hold only the essential items you need. This volume is ideal for school, work, short-day trips, and carry-on luggage.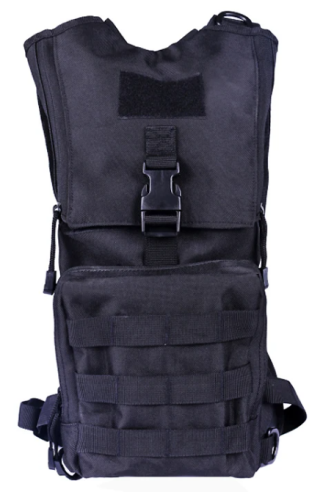 24 hour backpacks are larger to accommodate more gear when it comes to an overnight or longer stay. These backpacks are usually 30 to 40 liters in volume.
Multiday backpacks, sometimes known as assault packs, are expandable and around 40 to 65 liters, making it perfect for an extended period of time. These sizes of packs are usually constructed with extra features, such as a built-in hydration system, and a MOLLE webbing system.
Materials of tactical backpacks
Tactical backpacks are primarily designed to withstand harsh conditions and heavy loads. So the materials need to be durable, water-resistant, abrasion-resistant to ensure longevity.  
Here are some main materials that tactical backpacks are constructed of.
Cordura: Cordura is an extremely tough fabric known for its remarkable resistance to abrasion and tear. It is nowadays widely used in bag's and shoe 's constructions.
Ballistic nylon: Originally used in flak jackets during World War II, ballistic nylon is an incredibly durable material with excellent resistance to scuffs, abrasion and punctures.
Ripstop nylon: As its name implies, ripstop nylons are resistant to riping and tearing, enhancing the overall durability.
High-denier nylon: High-denier nylon is a frequently-used material for the outer shell of tactical backpacks. The "denier" means the thickness and strength of the nylon fabric. Higher denier values indicate increased durability.
Polyester: Polyester is primarily used in clothing. It may not provides the same level of toughness like nylon. But it is light, making it more comfortable and easy to carry for outdoor use. Polyester is also known for its resistance to UV radiation and moisture.
PVC( polyvinyl chloride) or polyurethane(PU): Usually used as coating for the water-resistant purpose.
Organization of tactical backpacks
A well-organized tactical backpack ensures that you can quickly find what you need when you need it most. It saves your time and enhances your overall experience. The full potential of tactical backpacks is realized when you know how to efficiently organize the contents within.
Utilizing compartments and pockets
It's the primary storage space of the backpack. It can accommodate larger items such as clothing, sleeping bags, or larger gear. Suitable for less frequently used items.
It is designed for smaller items like notepads, and documents. It often contains dividers or slots to keep everything in place and handy.
They are suitable for frequently used items that need quick access to, such as first aid kits,water bottles, multi-tools, or snacks.
This pocket includes a hole for the hydration tube, allowing you to stay hydrated on the go.
Hidden pockets and dividers
For further organization, some tactical backpacks offer hidden pockets or dividers. These pockets are ideal for storing valuable items or sensitive gear such as guns. Dividers can help separate things within a compartment, reducing clutter and making it easier to find what you need.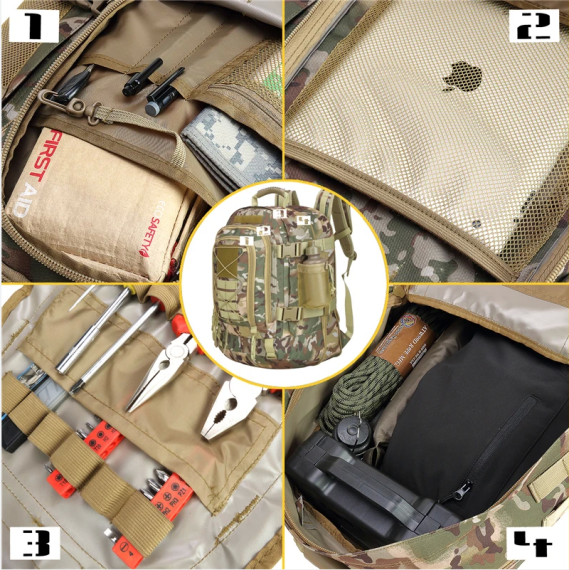 More than just securing your load, compression straps help with organization. By tightening the straps, you can stop your gear from shifting while on the move. Furthermore, they provide space for attaching extra gear or securing a sleeping bag or mat.
Many tactical backpacks have velcro panels for attaching morale patches, insignia, or identification markers.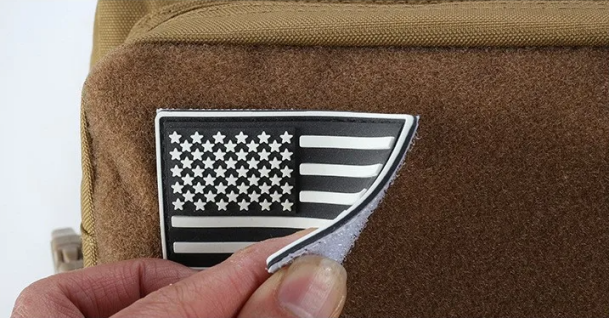 Maximizing the MOLLE system
The MOLLE webbing consists of rows of durable nylon webbing, stitched onto the outside of the backpacks. It offers the opportunity to add or remove extra pouches and accessories based on personal needs, enhancing the backpack's carrying capacity and organization.
Specialized pouches and accessories
Purpose-built pouches can greatly improve your organization. Think about investing in specialized pouches and accessories designed for tactical backpacks. These could be medical pouches, tool organizers, admin pouches for documents, or more.
MOLLE, an acronym for Modular Lightweight Load-carrying Equipment, stands as a hallmark system in the realm of tactical gear. Initially conceived for military applications, this versatile webbing system has transcended its origins, finding widespread adoption among law enforcement, outdoor enthusiasts, and beyond. Seamlessly integrated into tactical backpacks, MOLLE webbing or precision laser-cut MOLLE on the exterior empowers users to augment their carrying capacity with additional storage pouches. Elevate your tactical readiness with this innovative system, ensuring rapid and organized access to crucial gear. Experience the fluidity of retrieval – no need to pause, remove your backpack, or fumble through compartments. Embrace the efficiency of MOLLE as it transforms your gear management into a streamlined and responsive experience.
How to pack a tactical backpack?
When packing your backpack, remember these core principles:
1. Place heavy items to the bottom and to your back to stay balanced.
2. Keep frequently used items on the top of compartments or outer pockets for quick access.
3. Distribute weight on your backpack's left and right sides to avoid strain on your back and shoulders.
4. Use compression straps or stuff sacks to classify and protect items.
Tactical backpacks for different purposes
A tactical backpack is versatile and it serves various kinds of applications.
Military and law enforcement: A tactical backpack is a perfect solution for military Personnel, law enforcement officers, and other similar professionals to carry weapons, ammunition, medical supplies, communication equipment and much more in an organized way.
Emergency preparedness: Tactical backpacks are useful during emergencies or disasters. They can contain all the essential survival items such as food, water bottles, medical supplies, flashlights, and communication devices.
Outdoor adventures

: Many outdoor enthusiasts use tactical backpacks in hiking, camping, cycling or other excursions. These backpacks offer large storage space for clothing, food, water, and essential equipment.

Hunting

: Hunters often choose tactical backpacks to carry hunting gear, such as ammunition, knives, GPS devices and other related items. These backpacks usually come in camouflage patterns to blend into the environment.

Travel

: Travelers also appreciate the durable construction and organization features of tactical backpacks. They can be used for carry-on luggage or daypacks.

Everyday carry (EDC)

: Some people may associate tactical backpacks with more adventurous environments. The truth is that these bags can also serve as a good option to carry their daily essentials for school or work, such as books, water bottles, toiletries, laptops, and other personal items. These backpacks are smaller in sizes.

Sports and gym

: Tactical backpacks are also used as gym bags because they can accommodate workout clothing, shoes, towels, water bottles, and fitness accessories due to their spacious interior.
In summary, tactical backpacks are not only used in the above scenarios, but also suitable for settings that require durability, functionality and adjustability.
Differences between a tactical backpack and a regular backpack
The primary differences between tactical backpacks and regular backpacks lie in their intended purposes, durabilities, organization and customization options, and security features.
First of all, tactical backpacks are designed primarily for military, law enforcement, outdoor, or survival use while regular backpacks are more suitable for general daily use, such as commuting to school or work, carrying personal items and traveling.
Secondly, tactical backpacks are made with durable, rugged materials that can withstand abrasion, tear, and bad weather. Regular backpacks may use lighter fabrics like canvas or polyester. And they seldom use camouflage patterns or military aesthetics as tactical backpacks do.
Thirdly, tactical backpacks offer numerous compartments and pockets for storing and organizing essential items efficiently. They commonly have MOLLE webbing for attaching additional gear, pouches, and accessories as needed. However, regular backpacks have fewer organizational storage and lack the MOLLE webbing and modularity found in tactical backpacks.
Lastly, regular backpacks generally do not have concealed carry compartments for guns and dedicated compartments for holding hydration bladders as tactical backpacks.
In short, tactical backpacks prioritize durability, utility, adaptability and efficiency over fashion trends or aesthetics of regular backpacks.
Key considerations when choosing a tactical backpack
Tactical backpacks come in a wide range of materials, styles, sizes, brands and prices.When choosing the right tactical backpack for your needs, consider the following factors.
Materials and durability: Tactical backpacks are made with durability in mind. The materials used in the construction will impact directly the packs' lifespan. These materials typically have a denier rating to indicate their overall thickness and sturdiness. Look for a denier rating of at least 500 to make sure that your backpack will maintain its ruggedness over time.
Size and capacity

: Tactical backpacks vary in volumes. Think about the size and quantity of items you plan to carry with you.

Organization and customization

: Evaluate the way you would like to organize your items and weather you need extra storage spaces.

Purpose

: Define the primary purpose of the backpack. Different purposes may require specific features.

Comfort and fit

: Considering one that has padded shoulder straps, adjustable sternum straps, and waist belts to help with even weight distribution. Mesh back panels also increase the overall comfort.

Water resistance

: Consider choosing a tactical backpack that is waterproof or water-resistant at least, if you will be in wet environments. It will protect your gear from moisture.

Budget

: Set a budget. Find an affordable one without compromising quality.
Tactical backpacks are more than just gear carriers. They are reliable companions for their durability, organization, and versatility in every situation. Your choice should align with your specific needs and preferences, but rest assured that a well-selected tactical backpack will pay off in the long run.
AET provides a one-stop solution to your tactical backpack products, from design to delivery. If you have any questions or concerns, please feel free to contact us. We will be glad to offer assistance.
FAQs on tactical backpacks
How heavy is a tactical backpack?
A: It depends. The larger capacity of the pack and the more durable material used in terms of denier, the heavier it is.
What to pack in a tactical backpack?
A: It depends on what you're going to do. But the basic common items you may need in your tactical backpack are food, water, clothing, personal hygiene items, first aid kits, communication devices, tools, GPS, maps, and other task-specific gear.  
How to clean and maintain a tactical backpack?
A: Regular cleaning, inspecting for damage, and appropriate storage will help maximize its lifespan and maintain its functionality.
Can I use a tactical backpack for everyday carry?
A: Yes. Many tactical backpacks are suitable for daily activities and urban use, offering practical organization and durability.
Can I carry a laptop in a tactical backpack?
A: Yes. Many tactical backpacks can be served as laptop backpacks with dedicated compartments designed to hold them securely. Make sure the dimensions of the compartment accord with your laptop's size.
Are tactical backpacks allowed as carry-on luggage on airplanes?
A: Tactical backpacks can be used as carry-on luggage on airplanes as long as they adhere to the airline's size and weight limits and comply with security regulations. It's better to check with your airline's policies.